The press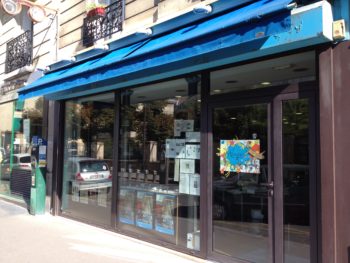 Riveneuve was born in 2001 on the shores of the Mediterranean, more precisely on the Rive-Neuve quay in the old port of Marseille, with the literary review Riveneuve Continents. Our interest was always in foreign horizons, foreign shores, and new frontiers. After moving to Paris in 2007, Riveneuve expanded its publication to the humanities and a literature open to the world.
In 2016, we moved into a larger space at 85 rue de Gergovie in the 14th arrondissement – a former optician's shop, the neon sign of which we have kept. This signed the launch of a new concept, as Riveneuve not only publishes about fifty books a year (circulated and distributed by Interforum), it also creates social ties around books, and promotes "living together". With exhibitions, conferences, debates, musical readings, concerts, writing or calligraphy workshops, a Christmas market, etc., Riveneuve is also a small cultural centre in the heart of Paris's 14th arrondissement!
Although we work on the scale of a small press, our moto is thinking globally and acting locally. Mindful of the fact that a significant share of the humanities and French-language literature (that is to say, works in translation or from the multi-faceted French-speaking world) is generated by exile and travel, here at Riveneuve we seek to contribute to the debates that animate French society through the varied prisms of people in Europe, Africa, Asia or the Americas. Riveneuve is attentive to the foreign part that exists in every French citizen, as well as to the French part that exists in every foreign author that we publish. It's all about telling stories of the world to the French and of the French to the world.
Rather than a mere editorial line, Riveneuve aims to nurture a cultural environment built on the
new concept
(Riveneuve Concept-store), the new logo, the Riveneuve soundtrack (text and music by HK), the new space ("the shop"), the new collections, the new website and the
new team
.
85 rue de Gergovie – 75014 Paris – France
Phone number : +33 (0)1 45 42 23 85